Balcony Bird Repellent – Bird Away
The Balcony Bird Repellent – Bird Away is a pioneering new method of combining PIR (Passive Infrared detecting system) and ultrasonic sound waves to detect and deter stray pigeons & pest birds from entering your balcony. Bird Away provides a convenient, non-location limited, effective and humane way to deter unwanted birds & pigeons out of the garden, lawn, balcony and yard without harming them.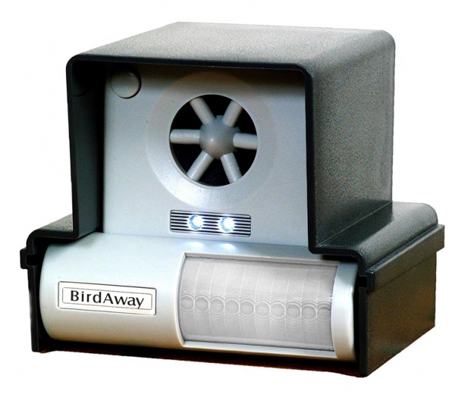 Combines PIR, Ultrasonic, and Flashing Strobe Light to Chase Pest Birds Away!
When intruding pigeons are detected, the Bird Away will be triggered, which will simultaneously emit a flashing strobe light and a continuously variable ultrasonic sound frequency, the unwanted bird pests intruding the detected area will be scared away by the Bird Away's – flashing strobe light plus ultrasonic sounds
The Bird-Away can be used at any location without electricity as it is operated on 2 pcs. of 9V alkaline batteries. Battery power remains on stand-by mode when there are no movements detected. The device is equipped with a DC power input jack in case of heavy activity of unwelcome birds is noticed.
It only scares the pest birds & pigeons away from the balcony. They do not come back sensing danger in the protected area. Can be used in gardens, yards, ponds to protect fish, balconies, swimming pools & other properties to be bird free.