Bird Repellent – Sonic Bird Chaser
The Sonic Bird Repellent is an affordable and proven bird control deterrent device. It is perhaps the most effective, natural and environmentally friendly way of scaring away pest birds.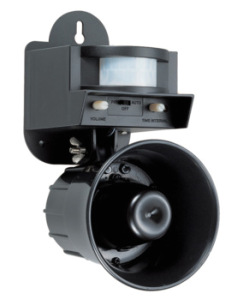 Nature dictates that certain predatory species of birds hunt and feed on other animal species. Most Hawks and owls prey mainly on rats, mice, rabbits, birds and other vertebrate animals.
Pest birds & pigeons cause damage, liability and health hazards. The Bird Chaser broadcasts a variety of naturally recorded bird distress signals and predator calls that frighten, confuse and disorient pest birds & pigeons within the effective range.
This bird repellent method will solve your pest bird & pigeon problem without harm to humans and other creatures. In addition, it can also deter open field rodents and rabbits. With the PIR function, the Bird Repellent can be used as a special device. Sonic bird control is a safe way to get rid of birds & pigeons from outdoor areas.
Exploiting these predatory tendencies, the Sonic Bird Repellent will produce the predatory calls on hawk (eagle), falcon and owl species to scare unwelcome birds such as sparrows, blackbirds, pigeons, starlings and various other birds away from your property.
The bird repellent devices broadcast threatening recordings, telling birds to stay away. Reduce health and liability risks associated with pest bird infestation & prevent the spread of diseases, such as West Nile, Salmonella and E. Coli
Deter pest birds & pigeons discreetly and permanently using silent-to-humans Ultrasonic Bird Repeller
Safe, humane, eco-friendly & extremely effective bird repellent
High-definition digital recordings
Auto mode incorporates with 5-30 minutes interval for large area protection
TIME INTERVAL adjustment to control the sound broadcasting
Built-in volume adjustment knob