Terminator Tube – Termite Control
No more mess, no more cement filling after drilling and chemical treatment. Just insert Terminator Tube into the drilled hole. Easy to re-inject at a later date just lift plug apply your treatment then just re-insert the plug. It's that simple.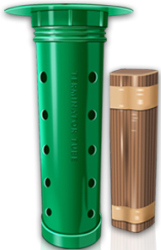 Terminator Baiting System -TBS
The Terminator Tube is the world's first non-chemical and non-toxic professional termite monitoring and attractant baiting system.
The Terminator Tube's bait uses an organic attracting formula that gives off a phermone which attract termites.
The Terminator Tube not only eliminates the colonies, but most importantly provides a full property barrier defence system which keeps new termite infestation at bay.
Made from low profile, high impact materials, it provides virtually unbreakable service for years to come.
Signs Of Termite Infestation
Broken branches on healthy trees.
Mud leads on trees, foundation wall or other parts of the house.
Damaged wood or any cellulose-based materials
Advantages
The Terminator Tube is the only water injection baiting system (optional), making it suitable for tropical and arid climates.
Child proof locking lid. Large tube size helps eliminate colonies effectively.
Environmentally friendly, low profile, high impact materials, provides years of virtually unbreakable service.
Bait materials comprise of natural timber and an organic termite attractant which has shown a success rate of more than 85% in tests so far.