Mosquito killer -Intelligent Mosquito Trap
The Mosquito Killer Machine – Intelligent Mosquito Trap utilizes specially made UV LED Beam & high efficient fan to trap and dehydrate flying nuisances like mosquitoes, biting midges etc. quietly, effectively and hygienically.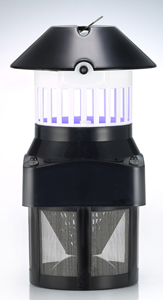 Traps and exterminates flying nuisance effectively, quietly and hygienically!
The built-in UV LED light effectively attracts mosquitoes to get close to the device. When they approach near the windows of light source, the flux of the air flow generated by the high efficient fan will draw them into the compartment and trap them in the collection chamber. A patented uniquely designed funnel-shaped screen hinders the trapped mosquitoes from flying out even wneh the mosquito killer machine is turned off.
The mosquito killer machine has an inbuilt AUTO mode which turns ON the machine automatically during dark hours and turns OFF during day time.
Features
Long life span of UV LED and high efficient fan up to 50,000 hours
No poison, no chemicals, no refilling, no pollution, non-toxic
Intelligent operation modes: OFF/ON/AUTO
Built-in sensor for device operating at AUTO mode
Specially designed container to lock the trapped flying insects