Car Rat Repellent
Car rat repellent is specially designed to protect your car from rodents (rats & mice). The device is a high frequency ultrasonic car rat repellent that deters rodents (rats & mice) from entering into the car's engine area. No more chewed wires and accessories around the engine with this extremely efficient ultrasonic rodent repellent for cars.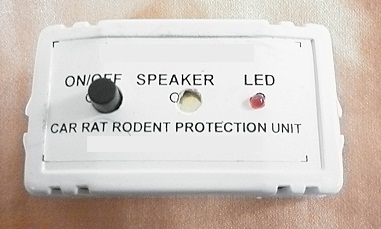 The device emits auto-changing and auto-sweeping high intensity frequency in the range of 22 KHz to 72 KHz that strikes the auditory & nervous system of the rats strongly with its intensive ultrasonic waves forcing them to leave the area being protected, they do not get killed. This function is effective to prevent rats from immunity to a pre-selected single sweep rate. The ultrasonic sound waves are inaudible to the hearing range of humans. It is completely safe to use in cars.
The car rat repellent has to be fixed under the bonnet of the car away from the engine. It is equipped with a 9V battery for power supply. Just turn the power switch to "ON" to start the unit or turn "OFF" to switch off the unit. Permanently eradicate rats & mice from destroying your car's wire and accessories.
Adapting high-tech methods, this rat repellent for cars can give out peculiar ultrasonic waves which can irritate the nervous and auditory system of the rats, make them uncomfortable and unpleasant and drive them away. The frequency of the ultrasonic sound is always changing which can not make the rats have any "adaptability" and "immunity".
The best electronic rodent repeller for your car will stop rats, mice and squirrels from chewing your sparkplug-wires, brake- and fuel-lines and other car parts. It will also prevent all future rodent damage in your vehicle.
Specifications Of Car Rat Repellent
Frequency: 22 KHz to 72 KHz (auto-changing & auto-sweeping)
Weight: 100 gms.
Range: 9 sq.ft. or 3 meters from 6 sides (inside bonnet)
The most technologically advanced rat repellent for cars. Chase away rodents effectively and permanently.
FREE SHIPPING all over INDIA. To order CALL NOW