Scare Eyes Balloons
The Scare Eye Balloons is a visual deterrent used to frighten birds away from specific areas. Keep birds away with these 3D balloon eye replicas that move with the wind and intimidate pest birds within visible range.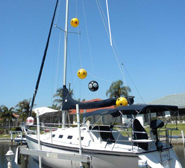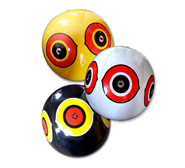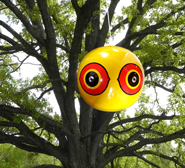 Cost-effective, simple bird control method!
The Scare Eye Balloons is a visual scare device, when birds see the bright colors, predator eyes, and reflective surface; they will be confused and frightened and want to avoid the area.
Scare Eye balloons are useful in many applications – homes, gardens, barns, trees, garages, marinas, doorways and more!
The Scare Eye balloons is a visual bird deterrent used to scare pest birds away from outdoor areas. The balloon is made from a weather resistant vinyl plastic, and is about the size of a standard beach ball. There is a "mock" predator eye printed around the sides of the balloon that is surrounded by a shiny reflective surface. Each Scare Eye Balloon has an eyelet mounted atop for easy hanging.
Details & Application
Includes three balloons – one white, one yellow, one black
Simple, cost-effective solution – hang the balloons anywhere!
Reflective Mylar eyes and tails included for added intimidation
Includes mylar eyes, mylar tails, and strings for each balloon
Predator decoy; 3D balloons
Wind causes the Scare-Eye Balloons to move in the wind, increasing efficacy
Balloon diameter: 16″